SUNSEEKING WINTER 2005
THE WAY SOUTH IN JANUARY 2005

For those of you who have followed the "Harvey Saga" over the last 18 months, you will know that we have had our share of problems with him. We finally got things squared away in late November '04, so we decided that it was too late to head south before Christmas. This year is Elisie's choice of where to spend Christmas so she decided that we were to be at home in Vancouver. We spent a great Christmas Eve at Frank and Nan's home (Elsie's big brother and sister-in-law) and most of the Koldewijn extended family. It is nice to spend such an important night with Family!!! (even though Alicia stole "my" hip flask!!!!) Christmas Day dinner we spent at home with Tim Bannister, our good friend and house sitter, and a twenty pound turkey. The turkey was superb, and we were really surprised at just how much damage three hungry people could do to the "bird".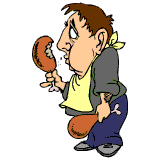 We finally "waddled" to bed after one of our best Christmas's ever!!

December 28th, we pulled the pin from Vancouver and headed down to DogPatch to load Harvey for the journey south. The weather was rainy, "quelle surprise" and Harvey looked anxious to get moving. After hitting Haggen's meat department, we thought that maybe we should wait until January 1st to pull out. That way we could have a really great dinner on New Year's Eve, and make sure that we had equipped Harvey completely for his 3-4 month voyage. The only definite dates we had made were at the National Factory in Perris CA on Jan 10th, and a week visit with Harold and Kathy North in Hemet Ca. I have known Harold for years through rugby and Kathy is our Guru for all things RV. After a week at the factory, it will be good to see friends again.

Our run through the Siskiyous was really easy. The sun was shining and the wind was non existent. We figured the RV Gods must have been asleep that day!!! But hang on ... they got even.

We got as far as Eugene Oregon and got a site for one night. The next morning, I could hardly speak ... not that Elsie would complain about that sort of condition! But, instead of hitting the road early, we stayed for an extra night, and I spent the entire day in bed!!! I guess it was a going away gift from the weather gods of Vancouver. The next morning, feeling a little woozy but much, much better, we headed for the necessary gas stop. This was when the gods "woke up" and realized that Elsie and I were fleeing. We have gassing up down to a science, we thought. I take off the difficult gas cap, and Elsie fills the tank while I wash the windows. This time, however, we could not find a small nozzle with diesel, so I had to use the larger truck-style one. We have done this before, but I blame the dopiness of the sore throat because I was not paying perfect attention and just started to fill the tank. The big nozzle fills in 1/2 the time, but this causes the filler pipe to "burp".

Out came a splash of fuel that soaked my pants, sweater and running shoes. If you ever have had diesel on your clothes, you know how long it takes to get rid of the odour. Usually, it is several weeks and several washings before the incident is forgotten. The drill is, when complete, Elsie usually goes in to pay if we can not do it at the pump, and I check Harvey over to make sure all is in order before we actually get on the road. I go in to change my clothes and forget to do the check. Oops!!!!

Off we go towards the sun .... and the weather is not bad at all. We were on the road by 8:00, and we stopped 25 miles south of Stockton at a rest stop for lunch. We have been starting the generator as we enter the rest stop so that we can use the microwave to heat some soup for lunch. With this cold weather, the warm soup and sandwich really goes down well. As Elsie does that, I go out and check the tires etc. to make sure that all is well. Well as I got out, the Gods were rolling on the floor laughing ... as the first thing I see is that there is a huge dirty mess down the side of Harvey. The second glance shows why ... there is no gas cap, and we have spent the last 250 miles spilling diesel down the side of the coach. OH DAMN!!!!

What to do? We called back to the station and sure enough they found the cap exactly where we had left it ... on top of the pump. We called all the National dealers in this area and none of them stocked spare gas caps. Now, do we unhitch here in the rest stop, and I drive back the 250 miles to retrieve our errant cap while Elsie stays and protects Harvey? Or does Elsie drive back, or do we simply sit here and cry. Out comes the Trailer Life book of campsites. Lo and behold there was a campsite back in Stockton that was in a marina. We called and got a spot there for the night.

Why was a Marina important, you ask? Well, when they made Harvey, they used a lot of parts from the boating industry. The gas cap is exactly the same as one used on a yacht, and we figured that where there was a marina there would be boat parts. We pulled into the Campgrounds and our spot was overlooking the river. It was quite nice, and the people there were really friendly. They suggested a boat parts store nearby, and off we go after measuring the size of the filler pipe. Would you believe it .... only $40.00 and we were away. We called the gas station again and asked them to keep it until we head back there in April. They said that this was Ok with them. So, once again we prove that with the application of dollars, we can "fix' most problems.

The next morning the weather forecast was for rain, sometimes heavy, and the road report said that the I5 into LA was closed at the Grapevine due to heavy snow. Time to hit the coast and good old highway 101. Off we head to Paso Robles, and the "center state" wine area. This was on Wednesday Jan 5.

The site was quite nice, the weather broke for us ...Thursday was almost sunny. Hey, life is good! We don't have to be in Perris until Monday, so we thought that a day wandering here would not be a bad idea. We stoked up the Honda and hit a few wineries. On the way back to Harvey, we drove through Peachy Canyon which was mostly farming land. The road was very narrow and winding, but the landscape was beautiful. We just rounded a very tight bend and right in front of us dashed a full grown lynx. It ran up the the side of the narrow road and stopped about 10 feet away right at eye level. The last time we saw one of these was in Alaska. It added a real bonus to the enjoyment of the day.

We were ready to head out Friday morning for Perris, but the Gods must have remembered us. That morning, the wind was blowing so strongly that it was impossible to stand up! That, along with the rain made traveling impossible! By 11:00 the campsite was crowded with others who fled the highways for protection. Well, no matter, we can leave on Saturday or Sunday and still be on time for our factory visit. Saturday morning was heavy rain but little wind. We thought that we had better get going now ....

The way south on the 101 was just wet!!! Constant heavy rain and as we got closer to LA the traffic increased drastically. Elsie did her usual excellent job of navigating, and we arrived in Perris dead tired but with no bruises on Harvey. Just as we pulled in to the factory the rain even stopped for us to hook up the power and water services. Not bad we thought ... this bodes well!!!!

About 3:00 AM we were awoken with the sounds of very heavy rainfall smacking at Harvey. We have not heard rain like that since Bangkok. The rest of the night was spent at best fitfully. Harvey has a fiberglass roof that magnifies the noise of the rain drops, and this deluge continued on into the morning and afternoon. Hops sure was unhappy having to go outside after her meals. Come to think about it neither was Elsie very happy ....

The weather guy that Sunday night reported that 12 inches of rain had fallen in our locale, and it was now 450% of normal winter rain.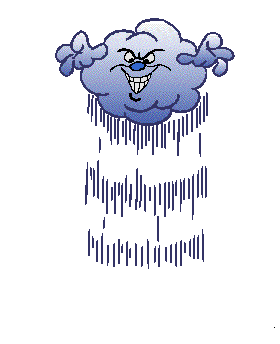 In fact Highway 101 was closed just where we had been on Saturday due to the La Conchita land slide where 10 people had been killed. The only good parts of this deluge was that we found several leaks we did not know we had and the diesel covered side of Harvey was now a little cleaner.

Monday 6:00 AM we were up to get ready for the technicians to pick up Harvey at 7:00 and the fun began .....

By the time we got to the factory, our "fix it" list had swollen. Being "good" parents of Harvey, we took Sunday to scrub and clean. Elsie went to pull out the vacuum cleaner, a deed that is not done too often, and she found that there was sufficient mould in the back closet to develop a number of antibiotics. This obvious result of a leak somewhere was new to us!!! As you can imagine, by this time I am steaming!!! Right on time, 7:00 AM the technician showed up to take possession of Harvey, and I went in search of Mr. Mink, National's Dealer Service Manager who had been assigned our file after I had first communicated with Brad Albrechtsen, the CEO of National. Fortunately, I guess, I didn't find him right away.........



Not to draw this out too long, our 2 day appointment became 5 days, and Mr. Mink kindly decided that National would cover the cost of all this work even though our warranty was over. It turned out that the main slide was completely assembled wrongly by the technician at Fraserway, our dealer in Abbotsford. When I mentioned that National Technicians had worked on it 4 times in the past, he had no comment. Mr. Mink assigned his "best" man to arrive, once and for all, at a solution. This "slayer of slide problems" or "Guru to slide technicians" stated that the main slide is now fixed "correctly", but he found that the bedroom slide, with which we had no previous problems" was also installed incorrectly at the factory. So ... out came it and new moldings were installed, and back it went this time correctly. Getting to that solution, they totally re-caulked the rear cap, and the entire driver's side of the roof. They literally re-caulked anything that they thought might be leaking.

By Friday lunch, Kevin, the slide sorcerer, declared the unit "fixed to his satisfaction". We could go ... He didn't even crack a smile when I told him that this made an even dozen times we had been told this. My final meeting with Mr. Mink was not much of a kiss and make up session, but at least neither of us were in jail, so I guess that was a "good thing"!!!!

As we sat the interminable number of hours in the waiting room, Elsie was picking the next campsite. We were meeting on Monday, as I mentioned above, Harold and Kathy North in Hemet just south of us so we needed a spot to spend the weekend. For some reason, Elsie chose Temecula. I suggested several other options, but is was a non starter for her. Temecula it must be. I did ask a general "why", but there was no real response. When we pulled up to the campsite, Elsie's reason became very clear .... it was a Casino with a campsite attached. I barely got Harvey stopped before Elsie was out the door looking for the free shuttle to take her to the one armed bandits.

The result was as to be expected ....sigh ...




But, at least the sun came out finally .....



This park did turn out to be very nice after all. The Casino had a Seafood Buffet on Friday that was incredible. For $18.95 there was all the fresh crab, prawns, shrimp, clams, oysters, scallops you could stuff down your throat. And you know us .... we got our money's worth that night. It was a good thing that there was a free shuttle back to our site ... we could not have walked that far on a bet. Stuffed was not a word ... it had become a condition!!!!

The park was full of dogs. One couple had two Boston Terriers with one of them even bigger than Barley was. Another had three "rescued" greyhounds, and yet another had two Old English Sheep dogs, two adults and two kids in a Motor home that was less than 24 feet. There were all sorts of mixed breeds (dogs not kids) but the one that stopped the show for us was a beautiful English Bull

. Never a dull moment.

Also in the park were 4 other Tropi-cals. We met the owners and tried very hard not to rain too heavily on their parade. We did offer a few choice warnings and suggestions though ....

On Sunday, we returned to the Buffet in the Casino for Brunch. If we did nothing else here, we drastically increased our caloric intake and caught up on our sleep. Monday Jan 17 took us to Hemet.

Both these drives, albeit very short ones, showed that up to this point, Harvey wished to behave. Harvey was driving well, the squeak was gone from the front cabinets and the slides were functioning as they were supposed to do. Just how long this will continue ..... who knows but PLEASE cross your fingers for us!!!

Just as we were registering here in Hemet, Kathy North burst into the office in quite a panic. They had had problems getting their rig into these tiny spots and required help. This is an older park with sites that are not conducive to large motor homes or super slides on 5th wheels. After some work, Harold had extricated the back tailgate from their truck from the front hatch of their 5th wheel with not too much damage after all. A few quickly poured libations and we were all laughing again. This will be a fun week!!!!

Where to next ... who knows ... but rest assured ......I will be aware of just what Temecula is

... Stay tuned