Epistle Six
Started in Mesa Arizona ... sent in Bakersfield CA
Thursday, Oct. 31st

we left Baton Rouge for what we sincerely hoped would be dryer, sunnier weather in Texas.  After all, remember all the western films we had seen as kids?  The good guy, riding a white horse, slowly crossing a dry desert like plain, complete with cactus, snakes, road runners and pretty women always stuck in my mind.  And here it was .... TEXAS finally.  As we crossed the border from Mississippi, we had Jerry Jeff Walker blaring in the CD.  "I want to go home with the armadillo" ... "When a Texan figures he'll take his chances, chances will be taken".  The weather too had cooperated it seems.  When we got up, we actually could see some blue sky.  AH ... a sun tan is coming.  With the heavy rain everything had gotten soggy.  Even in the front locker of the Folly where the batteries and all the other "stuff" was stored had gotten wet somehow.  Now, we would dry out .... surely?  Guffaw guffaw ... By now I should know better!
We had chosen our campsite in Houston very carefully.  The last thing that Richard said to me was to look for any old corkscrews for his collection.  Now, it is my firm belief that a corkscrew is purely a functional implement and not one that easily lends itself as a collectible item, but I had agreed.  We had passed literally hundreds of Antique shops on this trip and each time, we said that we should look for a corkscrew for Richard.  One time in Maine we actually stopped and looked, but to no avail.  So, this time we had a solution.  Advertised in our "Bible" of campground sites was one in Houston that claimed to be Texas' largest flee market and trading village.  In fact it was even called "Trader's Village RV Park".  Here we could keep Richard happy and assuage my nagging conscience.  As we got closer to Houston, the weather turned a little cloudier but still no rain.  We remained hopeful on all fronts ... dry and hundreds of corkscrews from which to chose.  The time pressure was off us and we could now move on at our discretion.  Oh, things will be well!!!
We found the RV Site and it was as advertised.  Picture if you would, a  huge parking lot ... the size of 6 or 7 football fields.  On one side was the RV Park, perfectly flat and resplendent with grassy patches between the cement pads on which the Folly could rest ... ant free ...  On the other side of the premises was building after building full of stalls waiting for the weekend to arrive.  This was going to be neat.  We got a very nice spot and set up the Folly.  Elsie noticed that there were very dark and suspicious clouds heading our way.  As cable was included in this site, we immediately turned on the weather station to find out what was to be our climatic future.
All the weather man could talk about was the rain that fell the night before, the flooding that it had done and the deluge that was to come.  Hmmmm...  not again! Or should I say, not continuing ... this is TEXAS after all.
On top of the weather dilemma, we had both developed severe colds that were trying to work their way down into our lungs ... "Pneumonia of the Headbone" was going to be our future!  Oh Shit!  That night, the rain hit again.  As I have said in previous missives, we are used to rain, but not like this.  Houston itself is not prepared for rain like this!  Underneath the overpasses and all the tunnels were flooded and the commuter traffic slowed to a crawl.  Fortunately for the Houstonians, it was Saturday so the traffic was lighter than weekdays but it still was pandemonium in places.  Elsie and I looked at each other and rolled over and stayed in bed.  That Saturday, with the exception of a drenched dash to a supermarket for food, we stayed in the Folly and waited and sneezed and coughed.  Sunday saw a little break in the weather and we did manage a quick perusal of the market looking to keep Richard happy.  As it turned out, this used to be a rally great location for antiques and collectors items, but now and for the past two years it had been taken over by people selling skulls of Texan Longhorn cattle along with "genuine" hand cuffs and "real" mexican whips.  Mixed in with these invaluable items were Mexican serapes with embroidered pictures of John Wayne on his last roundup, Gene Autry and his horse and Roy Rogers smiling in a beguiling way at his hoss, Trigger.   There were lots of corkscrews ... all of which were hardly collectable ... unless you were really thirsty.  It took us only about 1 hour to case the joint and then dash back across the open parking lot to the relative dryness of the Folly.  Sorry Rick ... but then you didn't warn us about the Red Ants did you??????  Hops' bites are beginning to go away now that a couple of weeks have passed.  Because of the weather and our health, we decided to head further south on the Monday so we really did not see a lot of Houston.  Another day and another trip ... when the weather is less antagonistic...  By the way, we didn't even bother to take out the camera here.  That says a lot eh?  In fact, in the last 16 days, 16 inches of rain had fallen ... Go WEST young man GO WEST ... so we did.
Now southern Texas is different to west Texas.  We were heading to Kerrville which was on the way to middle Texas just north west of San Antonio.  Here, the weather improved ... finally!

On the way to Kerrville, the scenery changed to more like the western movies.  We even saw the odd cactus.  The wind was blowing slightly and the sky actually was blue.  We found our Campground easily, and  set up the Folly.  This was a nice place!!!  They had a Rally booked in, but the place was large enough to handle us all.  This was more like it.  We actually started to smile again.
Time for the necessities of travel.  The truck required its third oil change and Elsie needed a hair cut. Now, I don't know how many kilometers are on Elsie, but the truck had hit 15,000 kms since we left Vancouver, and I hd not taken it near a GMC dealer since we had bought it.  Fast Lube places are more convenient, easier to make appointments and I thought, less expensive at about 30.00 cdn.  So, the next day we made our respective appointments.  Me at the GMC dealer and Elsie at the hair stylist.  By the end of the day, to put it in simple terms, both of us had been "fleeced"  Elsie looked cute, and I looked sick.  Can you imagine a bill for $106.00 US for an oil change?  When I queried the bill, the cashier only looked sad and commented that she too could not understand why it is so much.  "But then, every diesel truck oil change is around that price".  From now on, I'm sticking to Fast Lube places .. ta hell with the dealers!  We had 2 really good nights in Kerrville and then headed to Fort Stockton, West Texas. "Oh give me a home, where the buffalo roam and the sky is not cloudy all day"  We had hit the Texas we had pictured and the humidity now is approaching 10%.  Things are really looking up.  Fort Stockton proved to be exceptional!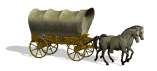 On arrival at the Campsite, we were warned about the chance of wild pigs and foxes in the area all of whom had rabies.  Oh good, we thought.  The snakes and spiders 

were not a problem at this time of year. This surely is the "Ole West"!  We decided to spend two nights here and spend the full day on a trip to Big Bend National Park to see the Rio Grande.  Now, I had always thought that the Rio Grande was a huge river that only John Wayne and other heroes of his ilk could ford.  Well, once again, legend dies.  The drive down to it was spectacular.  We must have passed dozens of microclimates as at every bend in the road the scenery seemed to change.  Here were cactus and desert, tumble weed and stunted dwarf trees and shrubs all set in a flat plateau ringed by dry much-erroded mountains that reflected the sun differently as the day progressed.  It was almost a 600 km drive so it took most of the day.
We first hit the bustling town of Marathon where we saw the little old lady on her donkey (see pictures).  She was living rough and heading into town for supplies, I guess.  I know that it was not exactly a class move to take her picture, but we couldn't resist.  All she did was to look away so I suppose this sort of thing must have happened to her a lot.  She sure did look like the characters you see on the TV --- you wonder what kind of life she must lead?  Well... to each her own ...
When we got to the National Park, we headed to the river.  Surprisingly, it was not well signed and we had to ask directions to the viewpoint.  Actually, the only signs that were very plentiful were the 45 mph speed signs in the park.  It was exactly the same type of road that lead to the park so the drop from 75 mph to 45 was a little drastic.  Being a citizen of course, I ignored the 45 as often as possible.
Cactus was everywhere. 

We parked the truck and headed down a trail that was to lead to the viewpoint.  The weather was fantastic ... mid 80's so we took lots of water.  As we walked along we passed a beaver pond that had been built on the banks of the Rio Grande.  I was really looking forward to seeing the river as we began to climb through an archway of bamboo.  What kind of "things" lived here, I have not a clue except that both of us were wearing sandals.  As we climbed, it got rockier, dustier and hotter.  Eventually we hit the top of a hill and looked out for the Rio Grande.  Well, it was less than impressive.  We heard later that because of all the agriculture needing water, the levels of the river were dropping.  The view sure did bring home the problem the INS (American immigration Service) has trying to police this border.  On the Mexican side was desert too of course, but the opportunities to cross are many.  In the next few days, we must have seen three or four established roadside check points set up to try to stem the tide of border crossing.  Each of these crossings had several trucks, lots of people and a full size bus in each site.  This is Big Business here!
After wandering around we returned to the truck and headed to a Mecca of mine .... Terlingua Texas.  For you uninitiated, Terlingua was the name of Jerry Jeff Walker's best album -- the one with "Up Against the Wall Redneck Mother", "London Homesick Blues" and "Pissin in the Wind" along with many other well known tunes.  The deal is this ... Terlingua is a ghost town of sorts.  It has about 100 people living there in adobe style houses and a couple of stores and a restaurant.  The stores and restaurant are all joined by a porch that over looks a small parking lot and then looks due West over the desert and mountains.  Of an evening, you never know just who will show up to sit on the porch, drink beer, and do their thing.  Sometimes it is just locals who will be there, sometimes poets or C/W singers will show up.  Apparently, Jerry Jeff showed up and was so impressed, he named his next album after this incredibly eclectic place.  There was a place for dry camping so who knows, maybe one year we will arrive and Elsie, fresh from her experience at the Grand Ole Opry will perform and go down in History (flames...?).
We did miss the Chile cook off by one week though.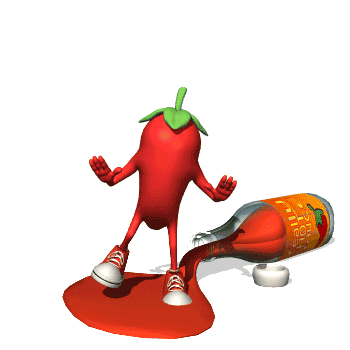 One of the locals working in a store said that there are so many people there, that the locals stay away from the huge party that this has become.  They claim that this is the original location for a Chile Cook Off and all the others around the world are but pale imitations of this.  After looking at some of the chemicals they put into their Chile, I doubt that anything would ever be "pale" again after consuming a bowl of their concoctions.  We did find a little roadside cafe that boasted the "Best Damn Chile in Texas" so we stopped and sampled.  It was good, but Elsie does make a pretty good Chile herself.  In fact, I would put hers up against that one any time.  Hmmmm maybe a future visit could be centered around this and then include an evening on the porch watching the moon come up over the desert.
The next day we left Fort Stockton with no sign of wildlife around the Folly.  Dogs intact, we headed to Las Cruces New Mexico, north of El Paso where we decided to spend 4 nights.  Remember that the weather was great!  The humidity was around 5 to 10 % and we were getting a suntan finally.  The Campsite was on a ridge overlooking the town which really wasn't very spectacular.  Picture Prince George set in a desert.  But, one thing of note did happen here.  We parked the Folly and, lo and behold, we saw in the RV several spots up from us ... a Boston Terrier.  Obviously, this meant that we would have to be introduced!  The couple there saw Barley and Hops and started to laugh. Several sites the other was was another Boston Terrier.  Wow we thought ... 4 in one campground!  About 30 minutes later, an RV pulled into a spot next to us and guess what ... yet another Boston.  After traveling as far as we had and not seeing more than 2 or 3 totally, this was indeed remarkable and called for pictures.  I guess that you would have to be there to capture the full ""magic" of the moment.
The next few days, Saturday Nov. 9th and Sunday Nov. 10th, we did very little except chores.  The weather was clear, but a wind blew in powerful gusts for the entire time.  I was sure glad that we were not on the highway through this little bit of fun!  Actually, we opened the door of the Folly and a gust of wind hit it and drove it back against the side.  Because the front hatch door was latched up, the force of the door drove the door stop through the surface of the hatch.  Oh well, nothing that money can't fix.
On the Monday we headed east across the Whitesands missile testing range to Whitesands National Park.  It was neat and we really enjoyed being hot and dry!!!  See Pictures ...
On our last day in Las Cruces, we went out for a true Mexican Lunch.  Up to this point in the trip, we have eaten out very rarely so this would be a real treat.  The restaurant was in the old part of Las Cruces called Ole Mesilla.  This was supposed to be the location where the pony express and early settlers met to head into the West.  It was a bit of a tourist site, but the restaurant was an award wining kitchen that had been written up in all sorts of magazines.  Fortunately, we were warned not to go overboard and order too much ... the portions were very large.  That was sure true!  I was stuffed and happy!!!!

Our next stop was Benson Az --Tuesday Nov 12th.  We decided to spend 3 nights here.  Now just what is in Benson, you might ask?  Not much!  The KOA there was owned by a Korean couple and was quite nice.  On our arrival, the owner jumped into hs golf cart to lead us to our site.  The Park was not really "large rig friendly" and he ended up directing me to turn into a tree that had some small branches touching the side of the Folly.  I stopped, and he jumped back into his cart and returned very quickly with a step ladder and a saw.  A quick "hair cut" later and that part of his park was now "big rig friendly".  From the realm of "its a small world" Elsie went to the camp Laundromat and met a women who had just arrived.  She and her husband were from Streetsboro Ohio where we had stayed when we visited Bill and Sylvia.  They had sold everything and were now going to "full time" and spend 5 or 6 months in Benson .  Just what the hell they would do for this length of time here, God alone knows.  But, to each his/her own ....
After doing all the chores and getting squared away, we were ready to experience Benson.  I have been keeping close track of gas mileage and distances traveled on this trip, and we have to date, traveled almost 1/3 more miles in the truck without the Folly then with it.  What we have been doing is parking the Folly and then heading out to see the local area.  So, in Benson, we were not far from Tombstone.  Ah ... back to my childhood again.  Wyatt Earp

... the Claytons, Doc Holiday, James Arness etc etc etc  and, of course, the shoot-out at the OK Corral.  This would be neat.  And, you know ... it was!   We drove out to the town that still today exists as a viable center and stopped first in Boothill.  A little touristy we thought but a fun place to wander around and look at the various tombstones.  The town itself, has been done up for the tourist with people in period costume on every corner announcing in a loud voice where and when the next "shoot-out" would take place.  Yah Yah, I know, it does sound cheap and touristy, but it was well done.  The people on announcing the gun fights looked fairly authentic and the ambiance of the town itself did lend itself to an overactive imagination.  The only complaint could be that all the stores sold pretty much the same items.  But what the heck ... it was fun.
We left Benson on Friday Nov. 15th and headed to Snowbird Heaven ... Mesa Arizona!  We had heard of one site there called Valle del Oro that was a destination for many Canadians in the past, so looked it up in our RV Bible.  Lo and behold, there it was with ... are you ready for this ... $11.00 per night special cost.  Seeing that the average cost has been in the $20.00 range we thought that this is a good place to go ... highly recommended and cheap!  As we pull in, we find out that there are 1800 sites here with a large percentage of them being modular homes affixed permanently to the site.  There were places for us only they were designed at a time when all RV's had all their connections for sewer, water and electricity at the rear of the unit. They also were all back ins!!!   "Madame Lafarge", the assistant manager, assigned us our site and a "park ranger" in a golf cart lead us there and help us to get in.  The first site had the connections so far back that we would need about 30 feet of sewer hose to reach.  We had about 12 feet of sewer hose and only 25 feet of water hose.  So the ole codge Ranger had me hop back into his golf cart and head back to the femme dragon for another space.  Well, after much humphing and hawing she did find a spot for us in the pet area ... yes if you had pets you had to be in one area of the park, the rest of the park was "pet free".  The only problem was that it did have the sewer connection moved up but the power was not turned on at this time of year.  She would have to notify the electric company to turn on the power ... a cost she was reluctant to take on this early in their season ... most people come there after Christmas.  But she did with little grace so off we go to dock the Folly in a back in space.
This Ranger turned out to be about 70 and had spent most of his life in Alaska.  The only experience he had with RV's was a small A Class unit with no trailer.  He had no clue on how to back us in. but did that stop him .... noooo.  Picture this .... very narrow road with little space on the opposite side for corrections.  On one side of the site, a large palm tree, on the other side is a cement pad for a patio that stuck up about four inches and had very sharp sides.  Sharp enough that if you ran you tire side along it, you would slice the living hell out of it!  So, in a nutshell, you had about 8 inches on one side to the tree and about 18 inches to the cement pad.  Into this spot, I'm backing in a 37 foot unit with the truck sticking out another 14 feet.  Now this sounds hard, but it wasn't all of it.  When they moved the sewer connection forward, they also moved it closer to the cement pad.  So, if you make one mistake the wrong way, the park would be charging you for a new 4 inch plastic sewer connection and labour to install.  A mistake the other way, and you would be spending a large amount of time and money in a tire store.  So, the geriatric Ranger and I start the back in process.
His instructions were confused to say the least ... back in straight ... no bring her head around ... no not that way, the other way.  My patience was being tried to the limit!!!!  Elsie was wisely standing off to the side keeping her head down.  After about 15 minutes of this, the ranger had to go and I was partly in.  After he left, we finished the park and found out that we had to move back further than the law would allow if we were to have water connection.  The result was not really pretty.  We were on a slight angle and the front of the Folly was too far to the rear of the site .... let them say anything was my thought at that time!!  I was ready to kill.  If the old boy had let us alone, Elsie and I could have managed this much easier!!!  But, we were here to relax for 5 nights.
We began to look around the place ... something was bothering me, but I had problems identifying just what it was.  The weather was spectacular, mid 40's at night and in the high 70's low 80's during the day.  Perfect!!!  There were three pools, all sorts of activities and meals being put on.  Everyone was wandering around looking very busy and happy.  Where have I seen all this before????   Then It hit me .... this is "Crofton Manor South"!  All the people we met were for the most part, living there in modular homes for the winter.  The average age in the place must be in the early 70's.  I'm NOT ready for this!!!  We are not old!!!  Mom would have had a great time here.   I could not wait to get out of "Depends South"!!!!  Maybe when we are too old to wander and too tired for adventure, then and only then, could I live there.
Next time we hit Arizona, we will try another spot ... fer damn sure!!!
Unfortunately, we are up against yet another date ... our health insurance runs out on Dec 7th so we have to head north soon.  So,  "due north" for the first time and home begins to beckon.

See you soon ...
The VERY YOUNG and still VERY VITAL 

Joe and Elsie and our trailer trash, Barley and Hops