EPISTLE ONE
Of The 2003 TRAVEL YEAR ...
The RV Gods must have been laughing at us this time out!!!!
Initially, we left Vancouver on Feb. 27th, a Thursday, to head to DogPatch to get ready for our southern sojourn to warmer weather and sunny climes. The idea we had was to clean and equip the Folly on the Friday through Sunday and pull out on the Monday morning ... bound for Kelso Washington for the first night, spend some time on the Oregon Coast, and then head to Pahrump Nevada for the sun and fun .... We have to be back in Vancouver by early April so we had just over 35 days which would be enough, barely, to complete this itinerary ... or so we thought.
The Friday and Saturday went well though it was damn cold and wet with temperatures dropping well below freezing at night. There were very few people in the Meadows, and it was nice to have the quiet and solitude. We did our shopping and made our plans ... we just wish now that Barley had been listening.
As you probably know, both dogs suffer from epilepsy, but we had their conditions stabilized for many months now ... we thought. On the Sunday morning at 5:30 we were awoken with the sounds of a seizure coming from the living room. Up we jump and it was Barley in the middle of a rather nasty fit. After a fit, he has trouble with his bowels and it took quite some time to effect the necessary cleanup. Well we thought, one fit after all these months is not too bad. Perhaps it is just the excitement of being in the Folly. So, we continued to make our plans. We go to bed early Sunday night expecting to head out the next morning. Chuckle chuckle the Gods said ....
The next thing we realized is the sounds of yet another seizure emanating from the living room. Up we jump at 5:00 AM to see poor ole Barley in the middle of yet another set to. Two in two days is just too much to ignore so we packed up, pulled in the slides and headed back to rainy Vancouver to see his Vet. After more blood tests and a complete exam by the Doc, it was decided to up his medications to see if that would stop these attacks. By Thursday it looked like Barley was settling down so we once again headed south to the Meadows to prepare for our southern wanderings. Our original plans were to leave in early February for all this fun. By now it was March 6th, and we still had to wait a little longer to see if the increased medication would hold him steady. So, we decided to leave DogPatch on Monday, March 10th. The way we saw it, if Barley was okay for a week then we were probably fine to head out.
Chuckle chuckle .... on Sunday the snow hit DogPatch. It was cold, damp and totally miserable! We could hardly wait for the sun in the south! Chuckle chuckle!
Just to remind you, we had real problems initially getting the Folly into our space in DogPatch. The narrow road off which we had to pull, the length of the Folly, and its huge rear over hang all constituted a real problem. Add to that the softness of both shoulders of the road and we were worried about getting out safely. But, it had to be tried!
The plan was to pull out to the left, so at 9:15 Monday morning, in a freezing cold rain storm, I, once again, bruised the Folly. You see, the Folly was about one foot away from the deck, so I figured if I could just pull right, a little closer to the deck, it would make the turn a little longer, and would thus help in missing the rather deep, 3 foot ditch on the left. Now, not being totally dumb, I realized that the turn would have to be made after the Folly was clear of the deck so I ever-so-slowly pulled out with Elsie standing at the edge of the deck to warn me if I got too close. When I figured that we were now clear of the deck, I asked Elsie to move to the ditch side to warn me if we were too close to it. As I slowly pulled out with the truck turned as sharply left as I could, the sound from hell was heard. A crunching grinding sort of noise. You know the type ... the sound that precedes a very large repair bill!!

Out I jump to survey the damage. There we were ... the last four inches of the Folly married to the last 4 inches of the deck. Oh Feces!!!
It was one of those situations that you are "in for a penny or in for a pound". To go back would do as much damage as to go forward. As I hate to retreat, and the damage was done, we went forward. You know, the thing that really pissed me off was that I missed the ditch by about 2 feet and there was no reason for me to have pulled closer to the deck in the first place! Chuckle chuckle the RV Gods were having a blast!
Well, another trip to TravelHome when we return is now in order! More open wallet surgery I'm sure. But, we were out, and nothing was holding us back from hitting the road ... Willie Nelson here we come.
The first two nights were to be in Kelso/Longview southern Washington where we had stayed on our return from the previous trip. We knew the place and liked it. It is on the Columbia River, and if you look at the top left number 5 Highway sign and then drop your gaze about 1/2 inch you will see Longview.
The drive down was WET! The setup of the Folly was WET! We were WET! The dogs were WET! Were we having fun yet?
We had made arrangements to head for Waldport on the Oregon coast for one week. If you can see Newport on the map below, and then drop down about 1/2 inch to the Highway 101 sign, that is about where Waldport is located.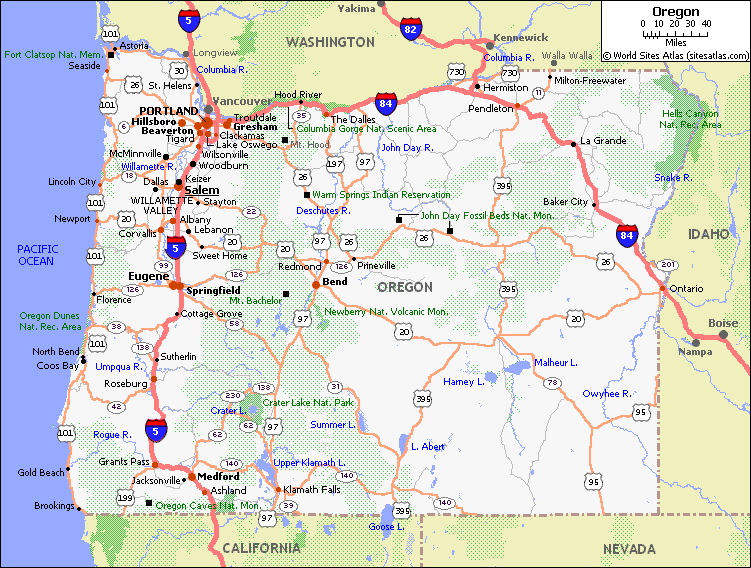 On arriving in the Waldport KOA the weather report made for interesting reading. Rain, mostly very heavy combined with a severe wind warning was in place for the next three days. We were told by someone that this Camp Ground had sites that were overlooking the ocean and we figured that it would be really neat to back in there and with our large back window, spend the week gazing at the waves, reading novels and cuddling by the fire place. Chuckle chuckle ....
The truth is that the sites that overlooked the ocean did so from about a mile away. The water that they did over look is Alsea Bay and the real ocean was separated by a spit of land to the right on which there have been built a slug of houses. On the left was a beautiful view of the Alsea Bay Bridge on Highway 101. Quelle Romantic eh? Added to this was the high winds and rain that was promised. We took the sensible route and chose a campsite that was at least partially protected from the wind. The trees around us are a little suspect in wind resistance, but we were assured by the manager that they were quite safe and would be able to resist the coming storm.
We were fortunate that the rain did ease on Wednesday afternoon so the Folly setup was accomplished in the dry. That night, the wind roared, and the rain fell. As I have mentioned somewhere before in these epistles, the front nose of the Folly is constructed of fiberglass and has very little sound proofing. As the rain droplets hurled themselves against the Folly, very little sleep was gained. This continued for most of Thursday and Friday with only the odd spot of dryness.
On Saturday morning, things changed. The sun (yeah, that big yellow thing) actually made a cameo appearance. We headed for the beach and managed to let the dogs get a fair amount of exercise along with us. A nice change ... I even managed to get the BBQ out and did some pork ribs. Now this is an interesting thing ... Pork prices in the US are CHEAP! We bought some boneless pork short ribs that were on for $9.00 with $3.00 off. That makes it $6.00 US that would be about $8.50 Cdn. There is enough meat here for Elsie and I to have at least two meals each and still there would be leftovers. I don't think that you could not get prices like that in Canada.
But, we sure are getting a lot of reading done, anyway!

All is not lost! When the sun does come out, it sure is nice here!! And right now ... the rain is stopped and the sun, once again, is making a brief appearance. Maybe next week will be nicer weather, but if not, we have lots of books to read and lots of meals to cook and lots of wine to drink. I wonder how the poor are doing today???? I think that I was born to this life!
Elsie has just woken up from her mid morning nap, so it is time for lunch. Yet another meal ... can things get better?????
Well ... Maybe they can! I didn't mention above that when we pulled into Waldport, the Manager offered, because the Park was so empty, to let us use two back-to-back sites -- one as a "Pull-Through". That would remove the necessity of having to back The Folly into a spot ... simply pull in through one site right into our site. Now that is a deal that I just couldn't turn down. Anything rather than having to back the damn thing up in small spaces.
However, things quickly got very complicated. Are you surprised??? The site that we were to "Pull-Through" was guarded on both sides by a very substantial telephone pole on one side and a wire support cable on the other. Couple that with the fact that the road from which we had turn was extremely narrow complete with a very dense hedge on the far side. There was absolutely no room for error. And ... error we did.
Even with Elsie guiding, it was back and forth, back and forth many many times. Trying to squeeze The Folly through that very narrow opening was not pleasant. I was determined to keep family peace so I did not actually turn off the two-way radios ... perhaps I might have turned mine down just a little????? But, after much "to and froing", we slowly managed to fit through the space and actually move into our assigned spot. I was just a little more than drained by this point, however are we finished yet??? Oh No .... still had to unhook, level, brace, and setup the electric, water and sewer.
Just as I got out of the truck, it happened!
In the space next to us, just then, a Class A motorhome pulled in using the same idea of using two sites as a pull-through. I didn't think much of it as I was concentrating on the job at hand ... disconnecting the Folly. I heard the air release as the coach was being leveled, but as I say, I was "zoned" in on my tasks. I got the Truck disconnected, and the front manual jacks down and the Folly was more or less level ... fine tuning yet to be done.
I remember thinking that he had no problems pulling in off the same road as I did ... he was 40 feet long, but by removing the Toad, he could swing in quite easily. The Folly is 37 feet long and hocked up to the truck made the length well over 52 feet. That extra 14 feet sure made my life MUCH harder.
As I was starting the fine tuning for leveling, I did happen to look over ... there the guy was ... coach level, slides out, easy chair out, sitting with drink in hand! I still had another 25 minutes of work to do before I got to that point. Was God trying to say something to us????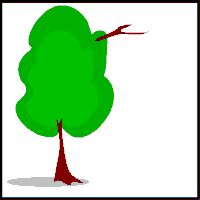 That was the point that Elsie and I decided to change. The fellow who sold us the Folly had moved to another RV Dealer who just happened to sell Class A Motor Homes. The decision???? ... A quick visit to see Marcel the moment we returned to Vancouver...
Just what will happen??? Totally in the hands of the Gods....

The next epistle could have some exciting news!!!!
Well, that brings us up-to-date, more-or-less. Today is Sunday March 16th, and I will post this now.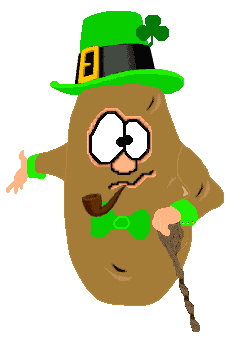 We are all of course, looking forward to tomorrow .... St Paddies Day. Remember .... "There are only two types of people in the world ... those who are Irish and those who wish they were"!!!!
We will be here until Wednesday March 19th and then where to go???? Because of the lost week, there is not enough time for us to make it to our planned destination of Pahrump Nevada. It will have to wait for another trip. They say that the weather here is going to continue very wet, but the wind, at least, will abate. So, where to go .... We will have to make that decision early this week.. Who knows where the next epistle will be coming from!!! I just hope the RV Gods lay off! But, with only 4 or 5 rigs in this camp ground, I guess they don't have much to do these days ... so ... stay tuned!.
Hope all is well with everyone and we will see you in early April.
Joe, Elsie, and the trailer trash pack.