WINTER 2005
SEEKING THE SUN

Well, another month has flown by and it seems that we have not done a huge amount of traveling. As you can see by the map below, we haven't done many miles, and that is a real change for us. Usually, we cover huge distances and then just spend time investigating a few local spots. This time, we are really getting to know south western USA!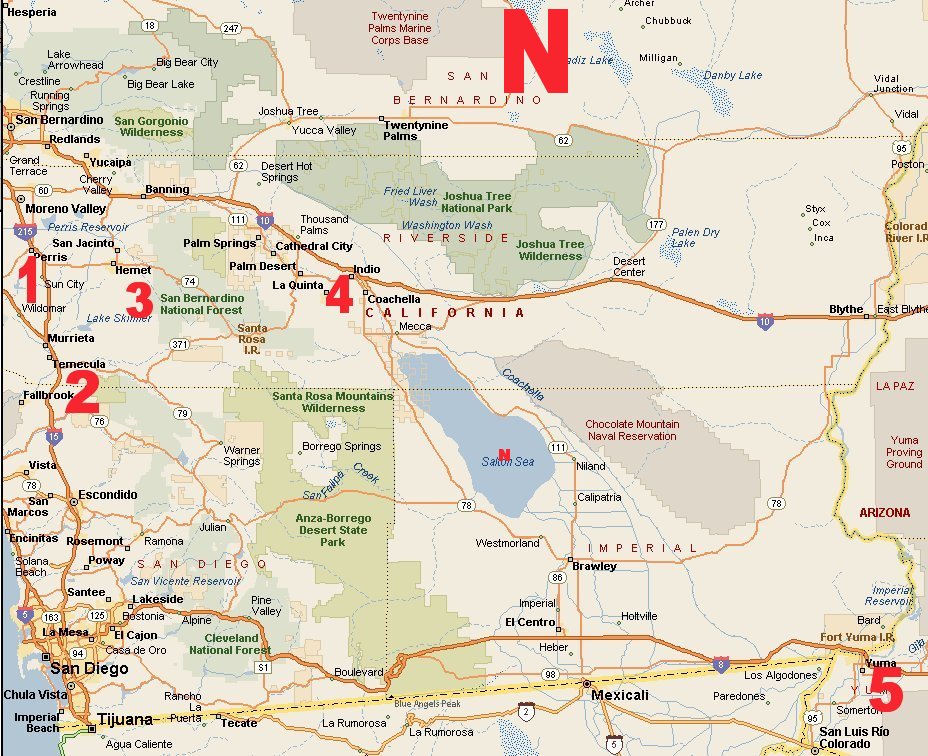 To give you an idea of distances :
From Perris (1) to Temecula (2) is only

20 miles

From Temecula (2) to Hemet (3) is only

30 miles

From Hemet (3) to Indio(4) is only

62 miles

From Indio (4) to Yuma (5) on Highway 78 to 86 to 10 is only

144 miles
So ... Harvey has not had too much of a work out since we left the factory, but so far so good ... (I only hope the RV Gods are not listening!!!!). But, as we go along, I fear that we will hear much more from Harvey .... sigh....

After leaving Temecula, as we mentioned in the previous epistle, we headed to Hemet for a week that turned out to be 10 days. We had arranged to meet up with Harold and Kathy North there and were looking forward to seeing someone from home. Harold and I have played a lot of rugby together and Kathy has been our RV Guru for years. What she doesn't know about RVing is not worth knowing. It promised to be a good week. The rains had stopped and the sun was shining with the temperatures hovering in the mid 70's during the day and the mid 40's at night.



My kind of weather ... not too hot or too cold. The three bears would love it!!!!

Golden Village Palms in Hemet is a good deal. They have a one week promotional deal for $99.00 for full hookup including hydro.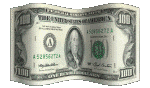 I think that most of the rigs in there were there for the deal, but as usual there is a draw back. The park is older and the sites are quite narrow backing. Along with this is the presence of a cement slab for a patio and the ubiquitous hazards at the front of the site ... lamp standards or trees or bushes ... it is always the same. I guess they think that it defines each site, but what it really does is make the parking job very hazardous. Add to this a very narrow road off which you back, and it makes for some interesting situations. You carefully miss the front prat falls, and then you have to make very sure that you don't rub your back tires along the raised cement edge of the patio ... a sure way to slash your sidewalls and that gets very expensive!!!

Did that bother Elsie??? Sure, as a sparrow, a hawk or a rabbit a lion (sorry Shakey). Elsie hops out, and with a few well chosen hand signals, and one slight minor correction, in we go like a cork in a bottle. Elsie is sure getting good at this!!!! One would almost think that by now we knew what we were doing .....

I think we ate and drank more that week than we have for years. Harold must be a bad influence on me ... or is it Kath .... hmmmm???? Or could it be, horrors of horrors, we are a bad influence on them???? NAH.... Anyway we had a great week... we even tried to get to San Juan Capistrano to see the sparrows, but the road was washed out, so instead we went and had a great Mexican lunch in Old Temecula. When in doubt .... eat, drink and be merry!!!

We were sure sorry to see the North's pull out. Hopefully, we will run into them again before we head home.

One of the things we had to do, while we were away on this trip, is to finally figure out if we want to join a Campground System. Before we left home, we joined Passport America which has 1/2 price accommodations in many Campgrounds across the country. It only cost us $30.00 for the year so it was not a big deal. We quickly found out that Hemet was a Passport Park, and we could extend our $99.00 week for another 3 days for 1/2 price. Instead of paying $93.00 for the three days we only had to pay $45.00. So, for ten days we had to pay $144.00 ... or $14.44 per day ... not bad!!!!

While we were in Perris, one of the other National owners waiting for work on their rig to be completed, told us about Western Horizon Camp System. They even gave us a card that allowed for us to have 3 nights, 4 days, and a meal for free in Indio if we listened to a promotional spiel. Ya ya ... I know ... time share and all that nonsense.

But, we had to find out which one of the Systems would be right for us. There are quite a few of them ... the biggies are Thousand Trails (not islands), and Coast to Coast. Western Horizon is not as large as those two but if you include all the affiliates, they have hundreds of parks across US and even some in Canada. So off we went to Indian Waters in Indio CA (4 - map above).

The Park turned out to be beautiful! The presentation was well done with no high pressure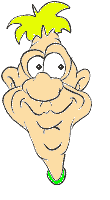 ( I had gird my loins for a real fight, but it never happened). The lady simply presented the facts and numbers to us, and then let us go away and think about it. If you are interested in the minutia of Camp Costs read the next paragraph, if not just skip it and go on to the next.

Western Horizon has 32 parks in the US and one in Mexico. While you are in anyone of these 32 parks you pay 0.00 per night. But, you can only stay for two weeks at a time. After the two weeks you have to be out of the "System" for one week. Then, you can return for another two weeks. So, two weeks in and one week out. For the week out you can stay anywhere you want, but you also can choose one of the affiliate parks (RPI or ROD or ACN etc etc.) If you go to one of these parks, the cost per night is either $6.00 or $8.00 US. So for any 5 week period, you would have 4 weeks for free and one week at either $42.00 or $48.00 total. That makes it $1.20 per night on average. Elsie has kept meticulous records since we began RVing 3 years ago, and she has ascertained that the average cost per night has been $33.00 Cdn. So, do the math ... On this trip alone, we will be away for 95 days ... (95 x 33 = $3135.00) is what we would have to pay. Using the system it would be (95 x 1.20 = $114.00) You can just imagine Elsie's eyes as she worked through all these numbers ... I haven't seen that look since she won in Reno last year!!! Given the "buy in" cost, and the fact that we will be doing a Spring Trip and a Fall Trip, we figure that we will be in the plus side by October.

As you can probably imagine by now, we bought into the Western Horizon System.

Indio turned out to be two weeks of good weather and fun. It was a really nice Campground, and the people were really friendly. The only downside to the area is the incredible traffic. This area is growing incredibly quickly. Palm Springs, Indian Wells, Palm Desert, Indio, Rancho Mirage, Cathedral City are all with in 50 miles of each other. In fact it is hard to see where one ends and the other begins.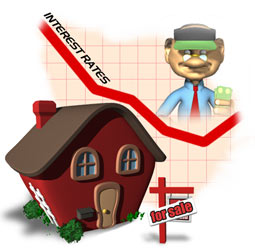 Frank Sinatra Way, Bob Hope Blvd, all swim past you as you go through Palm Springs as do the Bentley, MB and BMW dealers. This area will be so congested in several years .... everywhere you look there are new, gated, Yuppie Housing developments that start from anywhere from 100,000 to 500,000 dollars. And the unbelievable thing is ... they are selling as fast as they make them. One developer put 35 units starting at 350,000 on the market on a Thursday, and they were gone by the Saturday. The builders are making a fortune!!!!!!! Gawd knows who are buying these places ...


Because of the traffic pressures, we decided to make our home park Casa Grande, AZ. This area is just starting to torque up so we thought we would get several more years before we reach the same levels as Indio.

On leaving Indio we made the longest drive to date to Yuma - 144 miles. We have heard a lot about this area and were looking forward to having a look around. Because we are now in the "System" we could stay in an affiliate Park for 6.00 per night. So for two weeks we will have to pay 6 x 14 = $84.00. Not too shabby eh?

The park is called Pilot Knob after a great pile of rocks that sticks up 150- 200 feet in the middle of the desert. We are about 8 miles out of Yuma, and about 4 miles from the Algodones crossing into Mexico. We are also very close to the Imperial Sand Dunes where the ATVs roam continually. In fact this is the location that General George Patton chose to train his tank battalions during WWII. Apparently the largest military training ground ever to exist. The tanks roamed from here all the way to Utah. The desert is flat and unending! You can just picture all these 20 year olds let loose here in a 10 tonne tank ... what a blast they must have had! Until the summer months of course .... 125 in the shade ... if you can find any ... can you picture the heat inside one of those metal monsters???? YECH!!!!

The first week we were here, the weather was glorious!

We took advantage of this and headed out into the desert and across the Imperial Dunes. All around is nothing but sand and rocks with the odd bunch of grass. Spread over this inhospitable landscape are old abandoned gold mines and literally hundreds of "dry camping" RVs. The land is federally owned by the Bureau of Land Management (BLM) and you only have to buy a yearly pass of under $100.00 and you can stay anywhere for as long as you want. These guys are out there rock hunting, roaring around on ATVs, Dirt Bikes and Dune Buggies. Every week or so they drive into a RV dump station, empty their tanks and fill up with fresh water again. Back they go. There are people who spend their entire winter season living like this. Sure would be cheap, but Elsie and I like our showers too much for that life style. 'Sides we don't have an ATV .... yet????

Today, Friday Feb. 18th, is a down day. This winter is one of the wettest ones they have had and today it is raining ... yeah ... here in the high desert ... go figure. They only get about 3 inches of rain per year and today the weather guy says it will rain 1/2 inch. There are flash flood warnings out .... Is this because we are here or is it the effects of El Nino ?????

The upside of this weather is that the desert is alive!!! For years there are few if any flowers blooming in the sand.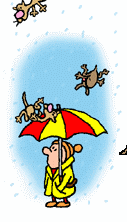 Right now, the ground is covered with pink, purple, blue and white flowers. It sure is a beautiful sight. All these seeds are covered in the sand and wait years for the rain to come. When it does, they flower.

Yuma itself is growing rapidly. All around you can see new houses, shops and malls being built. Apparently, 15 years ago Yuma was nothing. The old town was slowly dying and shops were boarded up. Since the Baby boomers and the sun nuts have arrived, this area is changing rapidly. But ... Oy Vey ... the summers .... WOW. Even this campground closes for May through September. It doesn't pay for them to keep open. I can't see spending time in a place that considers 100 F to be a cold day. You can tell a local as you drive around Yuma. They are the ones wearing a ski jacket with hood ... the temperature is usually in the 70's Brrrrr eh?

The other thing that this Campground has is the closeness to Algodones MX. From here it is only 3 or 4 miles to the border crossing where you can park your car for $3.00 and simply walk across the border. Why would you want to, you say? Well, we are spoiled by socialized medicine. Any given day will see literally thousands of people crossing to avail themselves of cheap drugs, cheap dentists and cheap eye glasses. There must be more dentists per square foot in Algodones than anywhere else in the world. Prices are advertised, and dentists are standing on the street attracting more clients. People next to us in the Campsite bought new glasses with progressive, photo chromatic lenses, complete with rims and eye exam by qualified eye doctor for $145.00. Standing in line waiting to cross back over the border, people are lugging bags filled to over flowing with prescription drugs. The general topic of conversation is how much they saved over US prices. We ran into many, many people who head down here every winter to have their dental work done, buy new glasses and get enough drugs to last.

As Elsie and I have just gotten new glasses, have recently been to the dentist and don't need drugs, there was not much for us to do while in Algodones. So, as usual, when in doubt, we ate. Now this is you typical border town with crowded streets filled with throngs of people and not too clean, but we thought, what the heck ... it is lunch time!!! We chose a street side restaurant based upon a recommendation freely given by customers sitting there. We ordered a "Plate" and a Tecate Beer. The Plate was huge covered with cucumbers, onions, salsa, shredded beef (I think ... hope), shredded lettuce, radishes, guacamole etc. The woman cooking the meat and the taco shells was standing on the street. As you finished your stack of taco shells, she brought you more ... unending supply. I order a beer with it, and it turned out to be 1 litre. There was sufficient food and beer (yes even Elsie had some of the beer)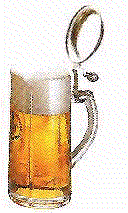 for the two of us to become stuffed. All this and the bill was only a little over $7.00 US. The trip was not a complete waste!!!! ( Eat your heart out Alf ... all this fun and no two step after)
On getting back to Harvey, I finally set up Elsie's Christmas present ... a GPS with Microsoft Streets and Trips software ... It works really well. Elsie simply has the laptop on her knee while we drive, and she can see exactly where we are on the map, tell our speed and even our present altitude. It warns her where the next rest stop is, what shopping is available there, and how long till we arrive at our destination. Elsie has always been a map nut and with this, she has died and gone to heaven. Before we leave, she plans out the trip, figures how much it will cost us in diesel and how long it will take. She is in hog heaven!!!!!!!!!!!!!!!!

The rain is supposed to continue today with clouds and showers for the weekend. On Monday we head to Casa Grande. And after that ... maybe Kino Bay Mx on the shores of the Sea of Cortez. Who knows ......