NEWF And BEYOND
EPISTLE Five
Boy have things changed since last we spoke, or whatever one calls this form of communication. Right now, I am sitting outside Harvey with the laptop on my knees, and the sun is shining beautifully. The temperature should hit the mid 70's this afternoon, and the sky is cloudlessly blue.

This Arizona experience is GREAT! But, more on this later. We have to get from Kerrville Texas to Casa Grande first ….
It was hard to leave Buckhorn Lake Campsite. The people, the facilities and the weather all combine to ensure that we will return. But, the December 1st factory appointment can not be ignored so we dutifully headed off, albeit after 3 one day extensions. Reality does suck sometimes!
Our next destination is Roswell New Mexico and the Carlsbad Caverns. Deep holes and little green men … this will be fun! What more can a destination offer? The campsite was not bad and was located about 30 miles north of Carlsbad and 30 miles south of Roswell; sort of in the middle of everything. They were rebuilding a petroleum refinery down the road and many of the workers there were living in RV's at this site. Even so, the campground turned out to be the winner of the Good Sam Best Run Park of the year. The owners were incredibly friendly which just added to the contentment feeling … with deep blue skies, warm desert temperatures … bring on the little green men!
If you have never been to Carlsbad Caverns before, make it a must on your travel plans. The day we went out to it, the temperature must have been in the high 70's with a sunny blue sky overhead. To enter the Caverns you can either elect to go down the 900 feet to the "Big Room" by elevator, or you can walk down through what they call "The Natural Entrance". A mile and a half after entering, you begin to remember Jules Vern's "Journey to the Centre of the Earth". You have descended the 900 feet walking on a well built path that took you from one wonder to another. The temperature has dropped to the mid 60's, and the feeling as you descend, is weird for anyone like me who has a touch of claustrophobia. As long as you resist the temptation to look back at the ever diminishing size of the entrance, and you walk quickly past the really narrow passages, you become totally engrossed with the beauty that changes with every curve in the path. After the 1 ½ mile walk down, you enter the "Big Room" with its 1 ½ mile circumference path. The lighting was done by a theatrical lighting company so the many beautiful rock patterns are enhanced and stand out while the rest of the Room is dimly lit. The really good part is that after the 3 mile underground odyssey, you return to the earth's crust by elevator. As you can tell by the number of pictures I have included with this epistle, I was really taken with this place.
The next day we went to Roswell to see the little green men. Now this town is well known for two reasons. The first of which is the 1948 crash of the alien space ship

and the resulting Government cover-up. The town is a fair size place and is sort of a county seat for the area. About 30,000 people call the place home even though it really is stuck in the middle of a desert. Included in these 30,000 are many who firmly belief that there was a crash, and there were bodies that were recovered. The old town movie hall has been rebuilt into a museum that is really more of a shrine to the event. It houses a large amount of memorabilia and evidence that all point to the occurrence of the crash. The thing that amazes me is that the people, some of whom are well known, who swear up and down that the Government has covered up this event, do not have eyes that rotate counter clockwise when you speak to them. In fact they look quite normal. If the newspaper reports are true, and the affidavits that cover the wall are to be believed, then maybe there is more to the story … but I remain skeptical. Although I would like to visit Area 51 in Nevada where the bodies of the little green men were sent and remain to this day…??????? There are indeed more things in this universe then your philosophies Horatio, or whatever Hamlet said about the existence of his father's ghost.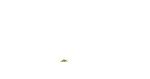 The second reason this town is well known is that it houses the Military School from which our good friend Bill Herold graduated lo these many years ago.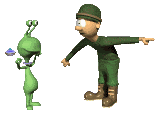 He never really has said just why his Dad sent him to the middle of a desert to a school based upon a military tradition that would be considered a little structured by most people. I suspect that one day he really must have done something to upset Dad, and the next thing he knew was that his bags were packed and off he went for 4 years. Anyway, he ended up in Military School in Roswell. As he described the place to me while we were comfortably settled in overstuffed chairs and were sipping many glasses of fine wine, I had pictured a place built much like the Alamo but with fences and armed guards surrounding a dusty parade ground. Nothing could be further from the truth.
Right in the middle of the town and stretching over several large city blocks, stands this beautiful brick edifice. We drove in the front entrance and noticed two very large brick homes that would be very acceptable in Shaugnessy. According to the signs these were the homes of the Head and Deputy Head Master. (read Colonel and Major … military school you know). As you went further into the site, the buildings seemed to stretch on and on. It is a huge place! The lawns were meticulously kept and the whole area was incredibly clean. After serving 30 plus years in the penal situation we call public schools, I was looking for the ubiquitous smoke pit and expected the walls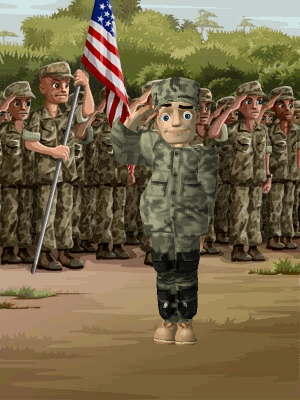 would be covered by inane graffiti, scribbled by the inmates. No smoke pit and no graffiti … go figure! Instead, all the students, dressed up in a paramilitary outfit were moving through the grounds all at the same cadence. In fact, they would walk along the sidewalk till they hit the corner; there they all did sharp 45 degree corners, and then proceeded along in another straight line. It did look sharp. One student marching at the correct pace passed us, made a sharp left turn, went up three steps where he knocked three times on a door and then backed down the steps. Befoe he went up, he stopped at the bottom step, placed his hat under his right arm and stood at ease with his hands clasped behind his back. I could just see some of the miscreants I taught doing that at the door to my classroom? Hmmm … we must get Bill, next time he is in Vancouver, to show us the correct walking cadence and just how to make those neat corners. I'll bet he remembers how to do it all! All in all, this school was impressive! Teaching there must be quite the experience. I was looking for the employment office when Elsie grabbed me and informed me that that period of my life is over. You know … I felt a little sad … I think it would have been fun … just for a while???
The weather has been great so far in New Mexico, but it was time to march along the highway towards Perris California and our Harvey Doctor's appointment. Elsie chose a small road (read narrow and challenging) as the fastest way to Deming New Mexico for one night. Then on to Casa Grande Az, Ehrenberg AZ, and finally Hemet Ca.
We spent only one night in Deming with good reason as the campsite there was less than gracious. The next morning, we headed out for Casa Grande. We had heard a lot about it and were thinking that if we liked the spot, we might reserve there for the time over Christmas. We have never spent a month in one spot, and we were interested to see if we could stand the lack of movement.
Palm Creek Golf and RV Resort is huge! It is the sister property to the place we stayed in Mesa last year. Those who have been suffering through these long, over worded, epistles for the past two years, will remember that we called Val D' Or Mesa, "Depends West" due to the age of the inhabitants. Well this one in Casa Grande is newer and seems to have a younger crowd with all the same amenities that Val D' Or has. It also boasts of $11.00 per night, "Get to Know Us" charges for first time visitors. So we landed, set up, looked around, and decided to reserve from Dec 15th to Jan 15th. What the heck, as you all know, the first time is always the hardest?
After 4 days in Casa Grande, we headed out for a one-nighter in Ehrenberg Az right on the Colorado River and the California border. The site there turned out to be very nice, and we have marked it as a place to return. From there it is not too far to Quartzite for a day trip and on the way to Laughlin Nevada, and/or Parker City, Az. It would be a good stopping place on the way East to southern Arizona. Anyway, we headed off to Hemet.
The reason we chose Hemet for the days leading up to Perris and the factory was that is was the best site closest to Perris. What a mistake that choice was! The whole southern California thing is, to us, highly over-rated. The first indication of this is the sight --- after leaving Blythe --- of the smog belt we were heading towards. As we drove west from Blythe Ca, we noticed a dark cloud on the horizon. LA smog!!!
The whole southern California thing is much exagerated in our opinion. Granted we had just enjoyed over a month in Texas, New Mexico and Arizona where it is sunny most days, and the nights are so clear that you feel that the stars are reachable by anyone simply sticking out their hand. The air is clean, fresh and beautiful. All of which California is not! But, we were stuck here!!!! Now came LA air. Yech! The people in Hemet claimed that it was only the sea moisture and not LA smog, but both of us began to experience sore throats the first day there.
The Campsite itself left a lot to be desired. The sites were very tiny, and it seemed that all the rigs were just squished in every which way, with very little thought to privacy. Our bedroom slide window was about one foot from the main slide window of our neighbour. It did not bother us too much as we always leave that blind closed, but what the guy next to us felt, we didn't inquire. You know the policy … Don't ask, don't tell!!!
We had booked in there for Wednesday to Monday morning over the American Thanksgiving.
What we did not know was that Albertsons, Vons and the Safeway are all behind picket lines here in California and have been for over 6 weeks. Both our food larder and wine closet required attention, and with the major sources dry …. What to do? The only store open was Stater Brothers. This small California chain signed the "Asshole" deal with their employees. If the stores remained open over the strike, the employees would get the same contract language signed by the other chains. Both groups are reprehensible in my view as they are proving they love money more than respecting the process involved. But what can we do? We still have to eat … and drink of course … so off we went, Wednesday afternoon, holding our noses, to Stater Brothers. This we saw as being the lesser of two evils: deal with immoral jerks or cross a picket line. The campsite we were in had celebrated Thanksgiving weeks ago. Strange place eh? But, ever resourceful, we decided to celebrate our own American Thanksgiving with the

appropriate roasted bird. We found a Butterball Turkey Breast complete with dark meat at Staters, and it will just fit the BBQ. They also had a reasonably good wine selection so Harvey's larders were now stretched to the bursting point.
The dinner on Thursday was Great! Both Elsie and I were developing sore throats, but they didn't get in the way of our eating, of course! The throats were sure a gift of LA we think. Most people seem to take the Thursday Holiday and add to it Friday to make it a really good break so the traffic around Hemet was at best silly! It comes down to too many people and we were outside the Greater LA area. What it must be like closer, I shudder to think!
On Friday, we drove up to the factory to see how long it would take us on Monday morning. We had to be there for a 7:00 AM. kick off. Well, we found that it would be about 40 minute drive with rush hour to contend with. OOPS! That would mean that we would have to get up around 4:30 to pack up Harvey and drain the tanks. That thought did not appeal too much as you might guess!
There was someone at the factory office when we got there, and she told us to come up Sunday afternoon and simply plug Harvey in to electric and water. That way the drive in the very early morning would be eliminated. Good thinking we thought. Both of us would be so glad to get out of that horrid drive that we agreed immediately. Unfortunately, we had already paid for Sunday night at Hemet but what the heck … the factory had free electric and water hookups so that Sunday we pulled up stakes and headed to Perris.
There is not much use to going into a long description of our experience here, but there are several salient things to mention. Firstly, the factory, unlike Lakeland the Florida service centre, did not let owners stay in the rig during the day. We had to be up and ready to get out at 7:00 AM when the technician came to get Harvey. There was a nice waiting room with a big screen TV and lots of comfortable sofas that you could use. On any one day there would be 10 or more rigs being worked on so that meant there would be sometimes 20 of us in the very early AM sitting drinking free coffee and talking. It really was a sort of dangerous place to be as you tended to drink one another's bath water. Each person had a story to tell about the problems he was having with his unit. After a while, you got to the point that there were only problems and no solutions. This could kill you quickly unless you realized that every day someone left with the problems they had solved! With this in mind, we not only survived the waiting room discussions and even came to the conclusion that Harvey was not the worst offender in the problems department. One fellow had spent 39 days in the factory since March when he bought his Tradewinds, the model above ours. This was in addition to the two weeks he had spent at the dealer from whom he bought it. It does seem that all motor homes experience difficulties when they are new. Perhaps the best way to buy one is to purchase a two year old model that has had the first owner go through the growing process...
At 3:00 each afternoon, the rigs would be driven out to the camping area, and you would hook up your water and electric and "happy hour" would commence. One good thing is that there is no cost, and you can stay as long as you wish. So, we got to meet a lot of people and saved some money in the long run. Not that bad a deal.
Talking about deals… I do have to mention my silver tongued sophistry.
When you first arrive you are assigned a service person who oversees the work on your unit and a lead hand who is the head mechanic for your rig. When we arrived, I mentioned to the service person that I figured we had been jobbed out of the Home Theatre unit in one of our external storage bins. I had several pieces of paper that seemed to indicate that it should have been included when Harvey was shipped north. She really didn't know what to say so she referred me to the Assistant Service Manager. Well, to make a long story very short we now have a 19inch TV, CD Player, two DC connections, two AC plugs and a telephone connection in the outside bin just aft of the front door. I have to mention that National could have whined and whinged and even outright refused my eloquent, well presented case. There would be really nothing I could have done about it. To their unending credit, they simply said that they could see my point of view, and that they would comply in the spirit of customer relations. Now this is a company that does try to treat its customers well. On top of all this, the cheque for all the service work we had done on the A/C was given to us at this time. We really have begun to appreciate National as a good company that is trying to undo some of its problems.
I even took two tours of the factory. The first one was sans Elsie who had the dogs to contend with so she had to wait until Harvey was finished. This tour really impressed me. It takes two weeks to build one of these things, and you have to add another week if you have a full paint job. They have added more quality control points to the assembly line so hopefully the new purchasers will have fewer problems than we enjoyed. The tour started at 3:00 PM and ran for 90 minutes. I told Elsie that I would return by 4:45 but things got too good to hurry. After the tour, I ended up in the Board Room talking to a guy who was in on the weekly production/quality control committee meeting. He asked for my feedback, and boy did I give it to him. All my bitches and suggestions for improvement, he dutifully wrote down and claimed that they would all be aired at the subsequent meetings. Even it this was all Bushwa, it did make me feel sort of cleansed when I finally left the room at 7:30. You can imagine Elsie's consternation wondering where the hell I had gotten to. I think she was heading to the pay phone up the road to begin to phone local hospitals when I finally put in an appearance. Even though I was only across the road, she does get worried. Neat eh?
No matter, we were free now of National, and we were heading towards Parker Arizona and Parker Dam in California. Would all the repairs prove sufficient? Only time will tell.
You careful readers of previous epistles will remember that Elsie's good friend Carole and her husband Lou were spending the month of December in Parker Dam Ca. These are the people who live in Osoyoos with the swimming pool in which both Barley and Hops were inadvertently christened last Spring. The vision of Lou, the retired fireman and Elsie, the worried mommy, jumping in to rescue the dogs is one that I'll always remember with a smile though I think that Elsie still has not forgiven me for just sitting there, laughing, and saying that they will learn to swim if they have to. You know, the old "throw them in at the deep end, and they will learn to swim" school of teaching. Anyway, since the campsite that we were to meet them in was situated on the banks of the Colorado River, I felt confident that if they did jump in again, we had experienced lifeguards at the ready!
Lou and Carole espouse the same philosophies as Elsie and I, good food, good wine and good weather. Add to this Lou's love of beer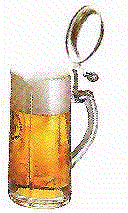 and you can swiftly picture the great times we had in Parker. Lou created one night, what he called "firehall food". This culinary masterpiece was a huge corned beef smothered with cabbage along side a huge portion of potatoes. Apparently, this is a dish that is often created at your local firehall. After consuming it, I once again realized why I should have been a fireman. If this is how they commonly eat …. WOW! The meal was, of course, washed down with a suitable amount of liquid which is probably why I have forgotten the recipe that Lou gave me that night. Now, if I can only remember to ask him again … but given my old age and memory lapses …????
Another meal of note was our introduction of BBQ lamb blade shoulder steaks. Down here these morsels of delight are quite readily available, and when BBQed and served with real English mint sauce, heaven can be glimpsed in a bite! As you can see, we probably have put on "several" pounds.
Parker is a delightful spot. The campsite is right on the shores of the Colorado River just downstream from the Parker Dam. We were on the California side of the river, and Parker City is on the Arizona side. You can traverse the river either by heading south about 15 miles and crossing at Parker City or head north about 3 miles and cross the Dam itself. Now why would I go to the effort to mention an arcane bit of detail like this, you may ask? Only to lead up to yet another result of 9/11. Since that date, the top of the Dam has been altered to the point that only vehicles and pickup trucks can cross. No large trucks of any kind are allowed over this structure. It is easy to see why when you look downstream and see the number of campsites, houses and parks that would be immediately destroyed if some nut bar decided to blow the Dam. But, because of this desire to protect, all commercial trucks are forced to drive 30 plus miles out of their way just to deliver their wares. Neighbours who used to be able to visit neighbours on the other side of the river simply by traveling a few miles, now face the same long drive as the commercial guys. What a neat world we have been forced to accept eh!
Enough editorializing from me! The weather has been good and consistently good! We sure have few complaints on that score especially when you check weather.com and see what the current conditions are in any Canadian City. Now, I don't want anyone to feel badly about this, but what the heck …sun beats rain and snow any ole time!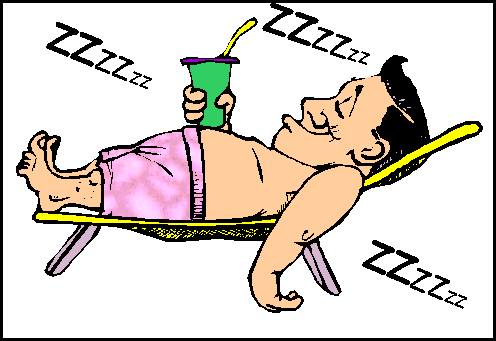 One day Elsie and I headed down to Quartzite Az to have a look. This tiny town set in the middle of the Arizona desert has a population of around 2000 in the summer and in January it swells just a bit to some say over a million people. The method of camping is simple, just drive out into the desert, pick a spot, and park. The "Federal Bureau of Land Management" has control and charges a daily pittance for you to dry camp. Given Harvey's large tanks and generator we certainly are able to participate in this activity, but as it was still early December, we drove the Toad down to have a look at the place. Things were being set up and you could see what January must look like.
If you are a rock hound this is heaven. Gem collectors galore flock here to buy, sell or swap semi precious stones. The gem swap meet has, over the years, been added to by the addition of collectors of all junk thus forming one huge swap meet. In fact, one local owner of a junk collection boasted that he sold a box about 2 feet square and 8 inches deep full of old bottle openers and corkscrews a month. (I had a look Richard … there was only junk there that I could see... but I did try!) On January 16th there is a huge parade, and then later in the month, is what again some call the largest RV show in the Nation. Maybe when we head out of the south, we might hit one of these little productions.
The time had come to say so long to Lou and Carole and head to Casa Grande, Palm Creek as our reservations were set for Dec 15th to Jan 15th. After being away so long, it has sure been nice to run into friends. First, unexpectedly meeting Harold and Cathy North for a day in Casa Grande and then visiting with Lou and Carole in Parker sure proves the value of friendships! However, the wanderlust has hit and were off to Ajo Az.
Ajo was once a very large open pit copper mine. With the world prices of copper in the toilet, it was closed several years ago, and as a result the town gone from 18,000 people to under 2000. The reason we wanted to go to Ajo was the fact that it is famous for cactus! The campsite there, Shadow Ridge, was OK but no lot was very level. It took us two attempts in two different sites to find one that would allow me to level and still keep my front wheels on the ground. This is a common problem in many of the older smaller parks.
The first drive we took out into the desert was to the Charles Bell Pass in the Cabeza Prieta National Wildlife refuge. The road proved to be challenging. Dirt turned to stones and then turned to sand. It got rather rough but the little, all wheel drive, Honda took it all in stride. When we first bought the car, I was not impressed very much with it, but as we go along, it has more than once proved its versatility and toughness. On either side of the road stood forests of Saguaro Cactus, you know the ones, tall with arms that stick out rather like Prince Charles' ears.

Boy was it dry there. Fortunately, it was still too cold for the many snakes to be too acive. The warden mentioned that under 75 degrees all snakes tend to stay in their burrows, Guess what though? The temperature was hovering around the 75 degree mark.

Well ....
On the other side of the Refuge is the Barry Goldwater Firing Range used by the USAF. It was neat to stop and look out over the cactus forest and see jet planes swooping and roaring through the skies.
Another trip we took was to the Organ Pipe Cactus National Monument. This one is almost on the Mexican Border and has the greatest occurrence of this "Organ Pipe Cactus" in the US. We did the 22 mile drive through the desert and were astonished at the different kinds and the numbers of cactus. The road was better that the Cabeza Prieta road, but still we were glad that we had the Honda. We even stopped in Why AZ and visited the "Why Not General Store" there. The only other thing there was the Coyote Howls Primitive Campsite that stretched on both sides of the road. All RVs there were dry camping, and the number of solar panels visible attested to the length of stay some of these people planned. On talking to one old timer in Ajo who mentioned in an off handed sort of way that summer temperatures varied 10 degrees in the summer …. from a high of 110 day time heat to a low of 100 degree night time, made us really begin to respect, or rather pity(?), those who obviously spend their time here year round. I think that I would be spending my time hugging an air conditioner. I guess it takes all types to make a world go round! The 75 degree winter temperatures suited me down to the ground. But, we were on to Palm Creek to spend the longest time we have ever spent in one place while RVing. What would one month be like? I do like to wander! Can I actually stay rooted for that long? This will be interesting.
We had reserved the same spot that we had when we visited here in November. Across from us is a retired fireman/farmer, Dick, from eastern Washington state who was really friendly to us and we thought that we would at least begin by knowing one person. He is here until the end of January and was here last year. Since our visit, another regular, Dick, from Wisconsin has arrived, and they too are really friendly. Both of these couples are our age and not withstanding the confusion of their names, we seem to be getting along well.
There are still a very large number of sites vacant so there is lots of empty area for the dogs to roam. We have been warned though, that in January the place is FULL. Think of it … over 1800 spots in this place alone. There sure are a few snowbirds!!!! It will be interesting to experience this place at full occupancy.
The common saying around here is that if you are bored here, it is your own damn fault. There are so many activities available that it actually is hard to choose. I think today, I might hit the Duplicate Bridge group … God am I ever getting old. The two Dicks across the way are real toy collectors. One of them actually has one of those two wheel electrical thingmaboobers that you stand on and run around though the good graces of gyro scopes.
He wants to get me on it but with my sense of balance, I could see a very bad case of "road rash" in my future if I do get brave. Both Dicks are into flying electrical remote controlled airplanes. This afternoon, if I finish this epistle, I will join them at the air site that the park as allocated to this hobby. Apparently, there are quite a few doing this, so Elsie is wondering if I will begin to have fantasies of becoming another Wilber or Orville Wright. Only the future will tell I guess.
Today is our 19th anniversary so a celebration is is called for.

I found a huge Rib Eye steak that looked like half a steer yesterday so tonight will be pig heaven.

Can you immagine she has stuck with me for 19 years????? Go figure!!!!
Anyway, all that is left for us to do is wish ALL of you a VERY MERRY CHRISTMAS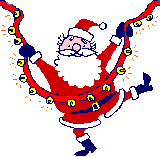 and to include the hope that your New Year will give you all Great Health and the opportunity to follow you dreams to where ever you want to go.

Joe, Elsie, Barley and Hops